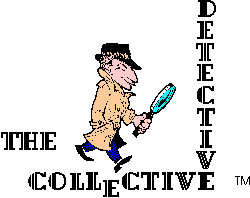 "To Protect and Serve"

What we do:
We provide investigative services to the collectible community.


We maintain and offer the most up-to-date information on where to find whatever you need, whether it is comic-related materials, sports memorabilia or general collectible items. Our lists are updated daily with the latest available merchandise.


Our service provides an opportunity to display those items you wish to sell. We will keep this information current by updating your lists as often as necessary.


Our electronic mail system enables buyers and sellers anywhere to communicate with each other at no cost. The potential savings in telephone expenses alone may justify the cost of the service.


Wanted Posters (Wanted-to-Buy) highlight immediate needs of dealers and private collectors all over the world.

What we don't do:
We don't compete with you.


We don't buy or sell collectibles.


We don't take a commission or participate in any sale.


We make no guarantee as to the availability or condition of merchandise listed with us.


We don't do windows.



The Collective Detective is an interactive, on-line database service specifically designed to meet the needs of the collectible community. Databases consist of the most current inventory information available, covering many different categories of collectibles.

Besides offering a complete sourcing and availability service, the Collective Detective also provides a relatively easy and inexpensive way for dealers and private collectors to advertise their inventory. Without our service, a dealer or collector looking for a particular item could spend hours pouring over advertisements and making phone calls. The Collective Detective quickly sorts through all the available inventory present in the database and locates the required information in seconds.

The Collective Detective offers two different types of user account:



Dealer Accounts

Private Collector Accounts