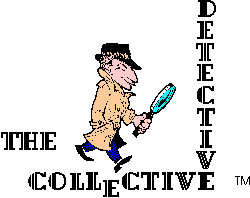 "Elementary, my dear Watson"

The Collective Detective addresses some Seldom Asked Questions...

Q: "I don't really need your search capability, but I would like to list my inventory with you. Can this be done?"

A: Certainly. Just sign up as a private collector and send us your list and the nominal setup fee. We think that you will find yourself using our locator services, but if you don't there is no recurring cost.


Q: "My inventory is on a Mac word processing program, but the headings and sequence are not the same as yours. Do I have to re-enter everything?"

A: Have no fear. Just export the files as text (preferably tab-delimited), and attach them to an e-mail message. If the information generally follows our headings for a given table, we can use it. By the way, don't bother repeating fields that don't change (if you are sending a list of a few hundred baseball cards, just call the file something like "BASEBALL.TXT").


Q: "Your Promo Card is way cool! Where can I buy one?"

A: Better than that, just send a SASE to:
The Collective Detective
9420 Reseda Blvd, No 222
Northridge, CA 91324 USA
If you include your E-Mail address, we will make sure to keep you current on new developments.


Q: "Whenever I begin an investigation, I get a scary message about security and encryption. Is this something I should worry about?"

A: Not at all. Most browsers give you a warning that you are about to enter a secure (encrypted) area. There should be a checkbox in the message to prevent you from getting it every time.


Q: "What is the capital of South Dakota?"

A: Nobody knows.





Do you have a question, comment or suggestion for The Collective Detective? Reach out.



Return to The Collective Detective.